CONDITION

Very good condition.
The artwork is not examined out of the frame since it is mounted on a mat.
DESCRIPTION

From an early age, Murakami Tomoharu (1938 - ) was fascinated by the works of influential Japanese painter Hasegawa Tohaku, sparking a lifelong interest in the expressive properties of charcoal. While he was a student at the Tokyo National University of Fine Arts and Music, he invented his own unique 'black' medium by mixing pigments and oil paints, which went against the traditional Japanese Nihonga painting techniques of the time. In 1964, he was selected for the Guggenheim International Award Exhibition alongside Tanaka Atsuko amongst others, and began attracting attention both in Japan and internationally. Whilst in New York, his encounter with American abstract expressionism was a turning point in his artistic practice, inspiring him to pursue his own ideal 'black' through a 'Western' painting technique of applying thick layers of paint to the canvas. In 1979, Murakami converted to Catholicism, and the rhythm of his work was modeled after the life of a monk in a monastery; with creation and the accumulation of works formed through the daily repetition of these acts becoming a pursuit of sacred spirituality similar to the act of prayer.

At first glance, Murakami's style appears to be a simple technique in which black and faint traces of red paint cover the entire picture plane, but closer examine reveals that the works are actually the result of a delicate and skillful technique whereby the materials and their distribution are adjusted according to the medium of the work. On canvas, he mixes charcoal powder and oil paint with a low oil content and applies it directly to the surface with a palette knife, but for works on paper such as this, his technique consists of layering acrylic and oil paints on top of each other. In addition, by changing the tools of his application, using a brush for acrylic and a palette knife for oil paint, he takes advantage of the differences between the two types of paints to create works with varying texture and greater depth.

This work, 'Untitled,' was created between 1986 and 1987 and is one of the artist's representative jet-black works. In 1987, Murakami held a solo exhibition, 'Tomoharu Murakami Works on Paper,' at the James Corcoran Gallery in Santa Monica, California, U.S.A., where this work was also exhibited.
PROVENANCE

James Corcoran Gallery, Santa Monica
YOU MAY ALSO LIKE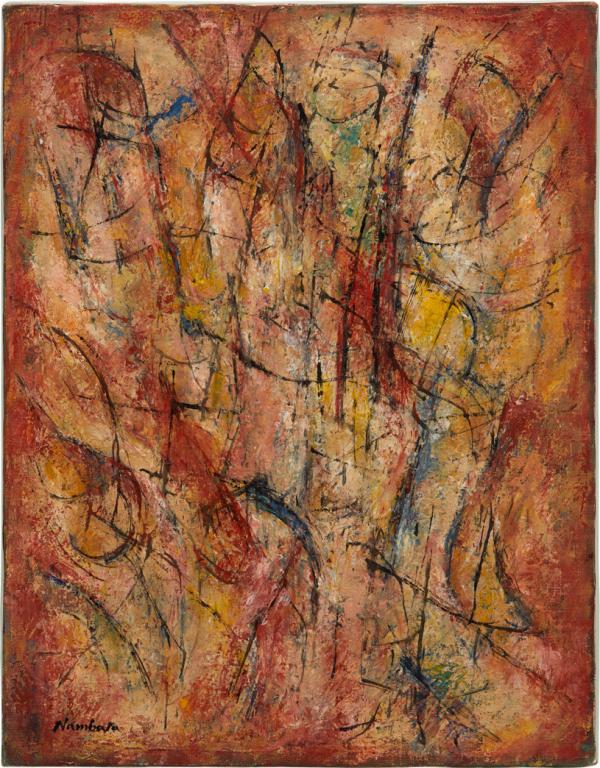 Red Poem
ESTIMATE:¥1,300,000 - ¥1,800,000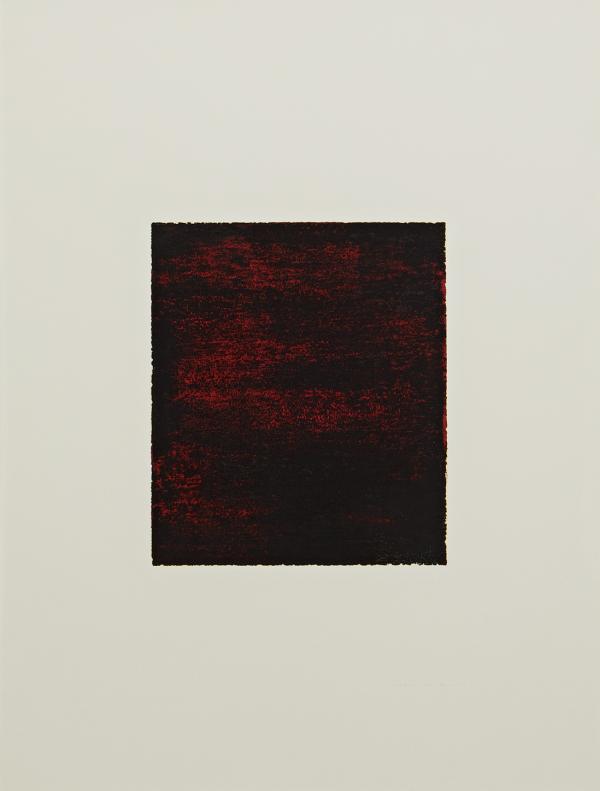 Work I
ESTIMATE:¥200,000 - ¥300,000 Symptom - Floor, Hand (P.W.-No.51)
ESTIMATE:¥300,000 - ¥500,000