CONDITION

Good condition.
There is a faint undulation throughout the surface since it is float mounted on a mat. There are pinholes on each corner.
Signed, titled and dated on the lower left of the verso.

DESCRIPTION

Internationally recognized for his vibrant colors, intense and bold brushstrokes, and such signature figurative elements as abstract blocks of color, humans with gigantic heads and eyes, recurring forms of plants, tennis balls, mandalas, tabletops, Eddie Martinez created a body of work that merges traditional American abstract painting, Surrealism, and action painting with the buzzing energy of street art, urban and popular culture.

Returning to the same motifs and images, rediscovering and reworking them in different contexts, Martinez can often be compared to Pablo Picasso, who produced a large number of works in various mediums and put himself in the exploration of imagery that always felt to him as something unlimited and changing.

Executed in 2016, the present outstanding work, called "Black Out," is a prime example of Martinez's playful, spontaneous painting style that mixes different textures like acrylic, oil pastel, crayon, and marker on paper. The artwork depicts raw, dynamic lines and rambunctious brushstrokes of black paint, brisk traces and markings of red, green, and pale blue scattered on the surface which make it look bold and strong in the eyes of the viewer.
PROVENANCE

Gallery Target, Tokyo
YOU MAY ALSO LIKE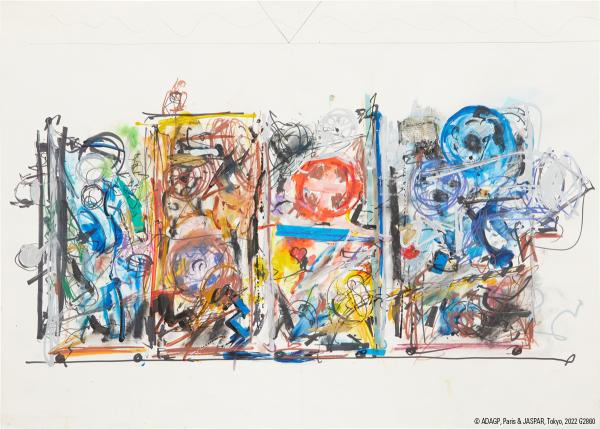 Sketch for Pandemonium No.1
ESTIMATE:¥700,000 - ¥1,200,000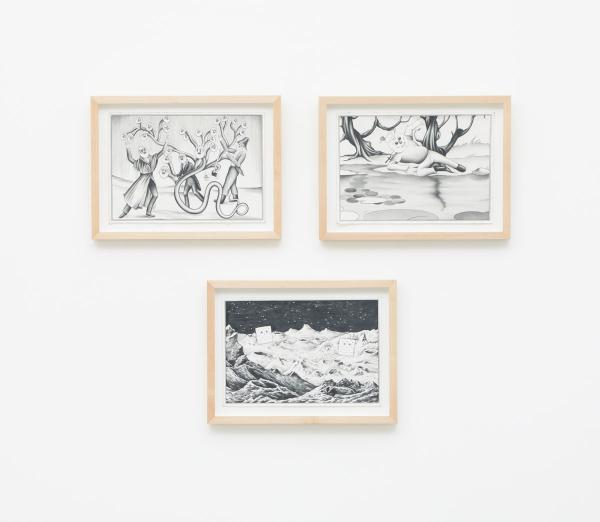 [1] Ugh, this thing fuckin' sucks [2] Some people wait a lifetime for a moment like this [3] Untitled (Crackers on the moon)
ESTIMATE:¥700,000 - ¥1,200,000