CONDITION

Signed, titled and dated on the lower left on the reverse.
There are re-adhered parts on the wires and tree branches.
There are some fox marks and adhesive marks in places.
DESCRIPTION

Born in Iwate, Suga Kishio (1944 - ), is one of the leading artists of the Mono-ha (School of Things) movement that emerged around 1970. The critic, Minemura Toshiaki, defined Mono-ha as 'a group of artists who attempted to extract an artistic language directly from the presence and movements of "things"…by placing unprocessed natural materials and objects (things) to the stage of artistic expression.' (Mono-ha, Kamakura Gallery, 1986). This is best exemplified by Suga's early work, 'Infinite Situation' (1970), in which he simply stands a square piece of wood in a window frame to support the open window. Still working as an installation artist to this day, Suga's work emancipates objects from being objects of human subjectivity or a means of artistic expression. Instead, he attempts to make visible the 'things that are indispensable to objects', that is, 'the state of an object' (Suga, 1969). 'Creating circumstances in which things become things is the origin of thought' (Suga, 1979).

The title of this work, 'Delineation of two-dimensionality,' brings to mind the formative thinking of Vassily Kandinsky in his treatise, 'Point and Line to Plane,' as well as the color field paintings of American artist Barnett Newman, and the 'From Line' paintings and two-dimensional works of fellow Mono-ha artist, Lee U-fan. However, what Suga intends in this work, 'Alignment of Flatness', is not to linearize flatness by drawing lines on canvas, but to make the situation of delineated flatness visible through 'the state and situation of things'. In this work, the two-dimensional object of cloth is altered by attaching pieces of wire to the surface, transforming it into 'a state of cloth that can only be absolutely created by human hands' (Suga, 1970). The work invites the viewer to observe the various lines and creases both in the surface of the fabric, as well as the lines formed by the countless fragments of linear objects made of wire.
PROVENANCE

Soh Gallery, Tokyo
LITERATURE

"Rensa (Links)", Soh Gallery, 1995, p.15-16
"Suga Kishio", The Yomiuri Shimbun/ The Japan Association of Art Museums, 1997, p.246, no.214
EXHIBITED

"The 10th Anniversary Exhibition Links Six Artists Part 3: Suga Kishio & Yoshizawa Mika: On Existence and Field", November 4 - 26, 1995, Soh Gallery, Tokyo
"Suga Kishio", December 1997 - June 1998, Hiroshima City Museum of Contemporary Art, Hiroshima, and 3 other venues
YOU MAY ALSO LIKE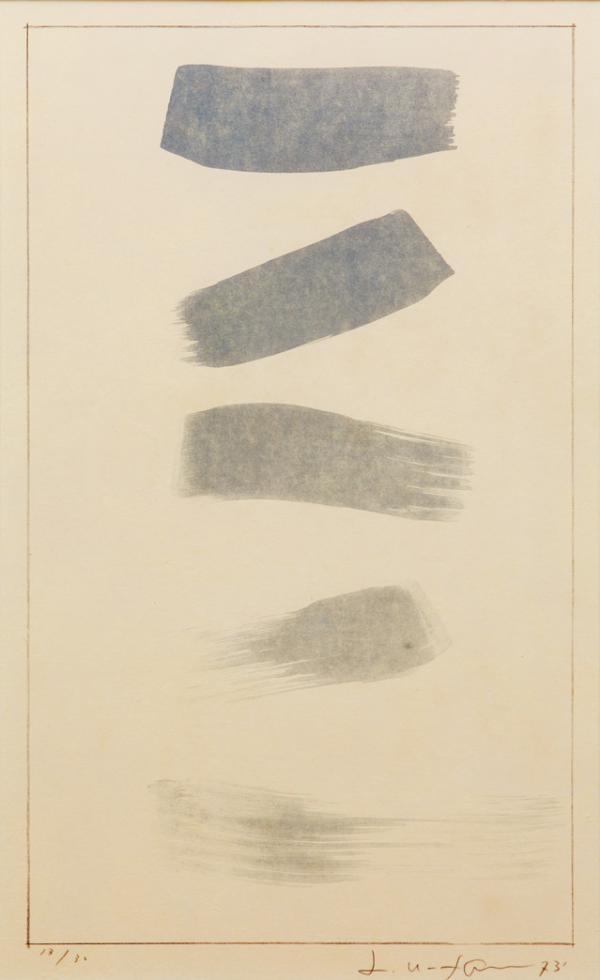 From brush 3 (Print No.21)
ESTIMATE:¥1,000,000 - ¥1,500,000 Symptom - Floor, Hand (P.W.-No.51)
ESTIMATE:¥300,000 - ¥500,000