Telephones
1995
DVD (7.30 minutes)
DVD: Φ 12.0 cm DVD case: 19.0 × 13.7 × 1.5 cm
ED.250
signed and dated on the certificate, numbered on DVD and DVD case slip cover
ESTIMATE :

¥800,000 - ¥1,200,000

$5,500 - $8,300
SOLD FOR ¥1,840,000 ($13,200)

($13,200)
CONDITION

Good condition.
Signed and dated on the certificate of authenticity.
The front and back of the DVD case are slightly scratched and soiled.
CERTIFICATE

Certificate of Authenticity by White Cube
DESCRIPTION

The 7-minute video art piece 'Telephone' (1995) by Christian Marclay (1955 - ) is an early work that demonstrates the artist's strong interest in both visual and sound art. The work stitches together scenes taken from numerous Hollywood films involving telephone calls. A dial is turned. The phone rings. Someone picks up the phone. The caller says, "Hello?". They say "Goodbye" and hang up the phone. These fragments of a scene, detached from their original story, become one-sided utterances with no recipient. At the same time, however, the disconnected conversation that barely exists emphasizes the transience and fragility of communication.
Curator and writer Stefano Basilico points out that while the technique brought to the fore in 'Telephone' can be positioned within the history of surrealist collage and appropriation art of the 1980s, it also demonstrates the influence of hip-hop and the sampling culture of the 1990s. The sampling method used in this work became the technical foundation for his later works, such as 'Video Quartet' (2002), which uses four screens simultaneously, and 'Clock' (2010), a 24-hour film installation. Created in the early days of the Internet, this work seems to foreshadow the excessive communication that occurs only in a society with advanced information technology, and the loneliness that arises from the lack of communication.
YOU MAY ALSO LIKE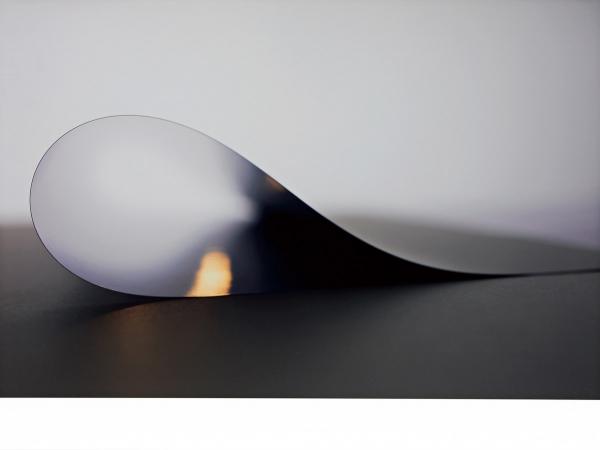 paper drop (passage) III
ESTIMATE:¥1,500,000 - ¥2,500,000