CONDITION

Generally in good condition.
There are a few dent marks and clacks on the edges of each panel. There is a faint white scuff mark on the upper right part of the image of each panel, but this is thought to be a light from the printing process and appears to be an original condition.
Each is signed, dated, and with a drawing on the verso.
DESCRIPTION

Umezawa Kazuki (b. 1985) had an elementary education in oil painting, sculpture, ceramics and Nihonga painting while still in high school, and went on to study film at the Department of Visual Arts at Musashino Art University. Umezawa was also a member of the contemporary art collective 'Chaos*Lounge', led by Fujishiro Uso. Whilst still at university, Umezawa began using found images of subject matter that had a profound influence on him, such as video games, anime characters and innumerable images sourced from the internet, to create bricolage works that merge 'image' with 'reality' and create his own unique style of 'painting'.
This large-scale work by Umezawa was inspired by Nihonga artist Soga Shohaku's seminal work, 'Fuji Sampo Byobu'. It was exhibited in 2015 at the Chaos*Lounge New Art Festival 'Day of Wrath' in Iwaki, Fukushima Prefecture. The work was exhibited by replacing four sliding doors in the Bodai-in Temple in Iwaki City, where the history of the movement to abolish Buddhism from the end of the Edo period to the Meiji period and the memories of the earthquake resonate still. After the Great East Japan Earthquake in 2011, Umezawa began to take and incorporate real images of the devastated landscape alongside internet images, but this work marks the first time in which he included influences from Nihonga into his work.
As Umezawa himself says, "The title 'Beyond [Kanata] Chronicle Konata [Konata]' is a chronicle of the other world and this world." (Umezawa, 2019), and the story of the protagonist Izumi Konata and her mother Izumi Kanata from the manga 'Lucky Star' is the background to this work. The protagonist Konata's daily life while carrying the grief of her mother's untimely death also overlaps, and the worldview in which the other world [Higan] and this world [Shigan] are nested and life and death become one and the same is somewhat a religious experience in combination with the majestic landscape of Soga Shohaku.
LITERATURE

"Umezawa Kazuki Re: Eternal Force Image Core " CASHI, 2018, p.24 - 25
EXHIBITED

"Chaos*Lounge: Dies irae" September 19 - October 4, 2015, Bodai-in Temple, Fukushima
"Hyper Landscape" September 1 - December 2, 2018, Watari-um Museum, Tokyo
YOU MAY ALSO LIKE Moondrop Tone
ESTIMATE:¥800,000 - ¥1,200,000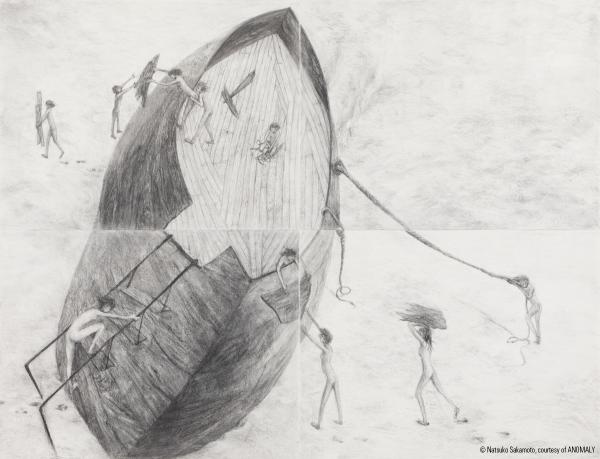 People Building a Ship
ESTIMATE:¥400,000 - ¥500,000